Smiths Heimann X-ray Inspection Systems
X-ray Solutions: Checkpoints | Mail Rooms | Shipping & Receiving | Freight & Cargo | Mobile | Threat Analysis
Other Smiths Products: X-ray Inspection Systems | Trace Detection | People Screening Detection Systems

Mobile X-ray Inspection Systems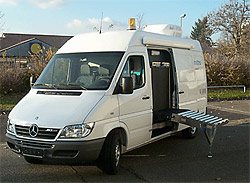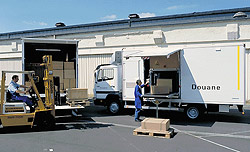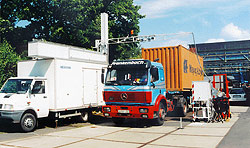 Flexible X-ray inspection system
Self-propelled or trailer systems available
Depending on design ready for public traffic
Integrated power supply using power generator
Proven HiTraX technology
Easy to use
As known from the checkpoints on airports, X-ray inspection systems are an indispensable component of modern security concepts. Sometimes, the stationary installation of such systems is, however, impossible or not useful. Here, the application of mobile systems is an ideal solution.
The systems incorporated in transporters, vans or trailers can be applied quickly and flexibly on different sites. Fields of application are, e.g. ports and airports, border crossings (customs purposes) and every kind of big event. In this case, mobile systems may be a reasonable addition to stationary systems.
The systems serve to inspect mail, luggage or freight for weapons, explosives and contraband such as drugs; there is a great variety of system types available upon request. The systems stand out by an innovative, customer-oriented concept: besides robust vehicles, high-quality components (generator, air conditioning equipment, body etc.) and an optimum equipment providing many accessories are used. The operator's work is supported by an ergonomic workstation.
On request, we supply:
X-ray inspection systems for other object dimensions
specific vehicle types
special vehicles (e.g. electric drive, low loading height)
complete ISO containers to be loaded on any vehicle